I don't have any pictures of Zing and her single kitten Raisin. They just showed up at the park mornings about a month ago. It was then I began to see them at the top of the park under the hedges when I would slip the kibble plates up under there. This is the area where
Blabby and Greyboy
hang out.
A view from the road of the hedge at the upper level of the park
Blabby up under the hedge
Zing looked a lot like
Angie
. She was slight, petite, fine boned and orange. She was young to be a mom. She was very shy and submissive, but she would let me touch her while she ate. Her kitten Raisin was just the opposite, very confident and friendly, and she would strut out from under the hedge before her mother. Raisin looked like
Arsinoe
in coloring, but she was a rounder cat. She was petite like her mom, Zing, but built more like
Sophie
- a small strong package, and also super silky like Sophie. I wondered had Raisin been Sophie's littermate, and Zing her mom, and somehow Sophie had gotten away from them.
Raisin had the same coloring as Arsinoe pictured here
But Raisin was shaped more like Sophie pictured here, small and strong
Zing looked so much like Angie that I wondered if she was Angie, it had been so long since I had seen Angie, and Raisin's age looked about right for the time since Angie gave birth . But when I went back to look at the pictures of Angie, I realized that Zing had white markings on her paws and under her chin that Angie didn't have; it wasn't her.
Angie was solid orange - I haven't seen her in a long, long time



Angie just before she gave birth
I had started bringing an extra pouch of kitten food for them to share up top under the hedge before I went down to feed the other cats at the feeding table, and a little premium kibble. They gratefully ate it up together, but it was a difficult maneuver, because I am always struggling against the clock and daylight at the park, and often this summer I have been running late. Mostly due to sheer tiredness, a lot of that due to the huge number of cats that have been showing up to eat at the park, the more hours I am spending there, the number of cats at our house, the heat, and so on.

It's better if I can get to the park before sunrise

Just a fraction of the unprecedented number of cats who have been coming to the park to eat this summer
Also, it was difficult because I had to steer away the other hungry, waiting (sometimes not so patiently) cats from Zing and Raisin's special plate. I had to police the the whole meal by standing guard over them or Blabby,
Strike
, and
Baby
would bat Zing and Raisin away and steal their food. Zing and Raisin were clearly the new not yet completely welcome outsiders. But Zing and Raisin never pressed it, being two of the most courteous cats I have ever known.
At the end of last week, about Thursday, Raisin disappeared. Because of their not completely welcome stature at the park I knew Zing and Raisin were crossing the street regularly to the empty field where they felt more secure. The street is not far from the hedge. I put the food there because it is one of the only places I can hide it up at the top level of the park. I had seen them with my own eyes on the other side of the road opposite the park when driving by. It made me shiver.
The road in front of the park, the lower park is just over and below that brown railing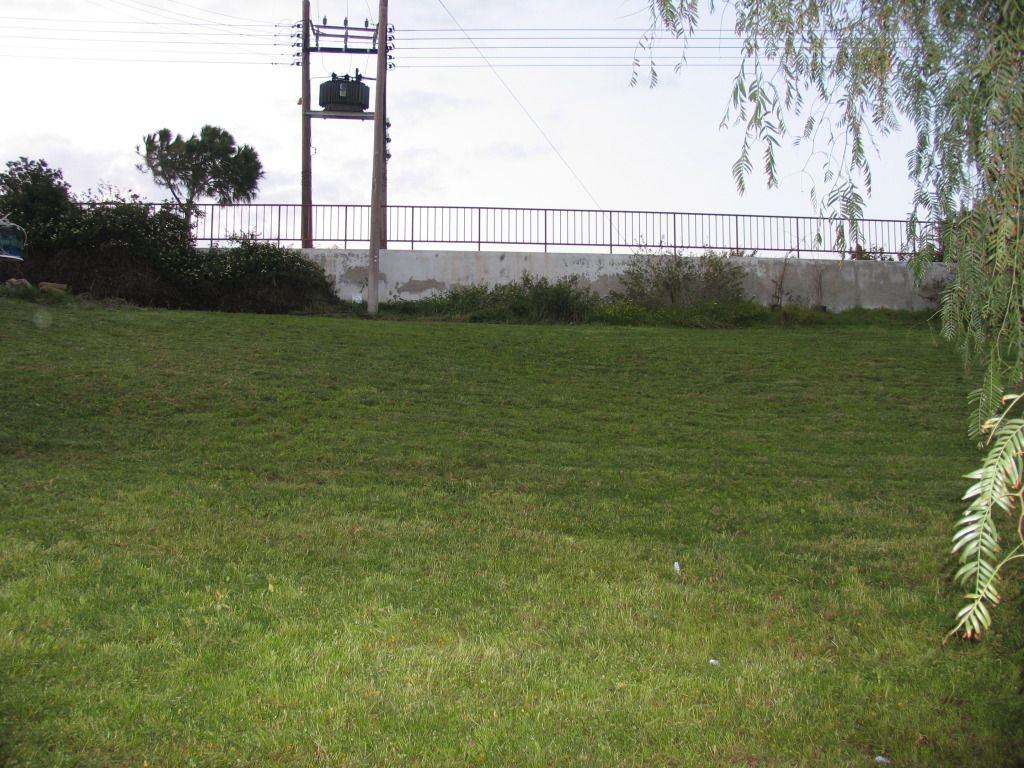 A view of the railing from inside the park, down this grassy slope is the lower level
I kept hoping that Raisin would reappear. I told myself that she was so friendly, maybe one of the visitors to the park or diners at the concession had fallen in love with her and picked her up to take her home. I hoped so.
The park concession seen here, sleepy over the winter, now teems with people
The cars parked this summer for the concession
So Zing was now alone. The last couple of times I saw her, because Raisin wasn't there, and I was running late, I only put some premium kibble down for her, and then dashed off to the lower level to feed the others. It is rare I do this, but sometimes I do. I always try to tell myself that this may be the last time I ever see any one of the cats, and always to treat it as such. But these last two times with Zing I didn't, and I regret it.
Regret is a bitter pill. The last time I saw Zing alive was Sunday morning. Sunday late afternoon Nik and I went grocery shopping and passed by the park. I always hold my breath when we pass by the park because I never know if I am going to see one of the cats we care for dead in the road. I always try to to be mindful of this possibility, so I am not caught off guard, so I can beef up and put my armor on. This time Nik and I were talking and I was feeling a little carefree - a foolish feeling if there ever was one - and I was late to get a hold on myself, because as soon as I began to be aware of my forgetfulness, I saw Zing lying lifeless on the field side of the road, and it was too late. We pulled over. I broke down. I cursed. Then I pulled myself together and picked her up, kissed her, and place her inside a shrub where we would come back later to pick her up on our way home from the market, take her home and bury her. We buried her in our front garden next to Zsa Zsa, Aurora, Fortune, and Tweets.

Nik burying Zing Sunday night
Monday morning I saw the remainder of the premium kibble I had put down for her. I wondered if she had been crossing the street back to the field after going to the park to eat. I wondered if a similar fate had beset Raisin, and that was why she disappeared. I wondered if maybe Raisin was still alive somewhere, maybe somewhere near the park. and she would show back up one day. I looked for her all week but I haven't seen her.
It's true last weekend was the high weekend of the summer for Cypriots to visit the seaside. August 15th marks the day of feasting at the end of a two week fast for the
Dormition of the Theotokos
, or The Falling Asleep of the Mother of God, and the beginning of a Cyprus week long holiday when nearly everything closes down. August 15th this year was on a Wednesday. The following weekend there was more traffic, more cars, and more visitors to the concession at the park by the sea here in our village than ever. It didn't go unnoticed by us that this was the weekend Zing died.
Icon of the Dormition of the Theotokos