Topper
Does anybody remember this song by the Doobie Brothers? It Keeps you Running?
http://www.youtube.com/watch?v=_BsTF22SPyM
I've thought about it several times when I was at the park recently.
For instance, it came to mind as I was wondering when this: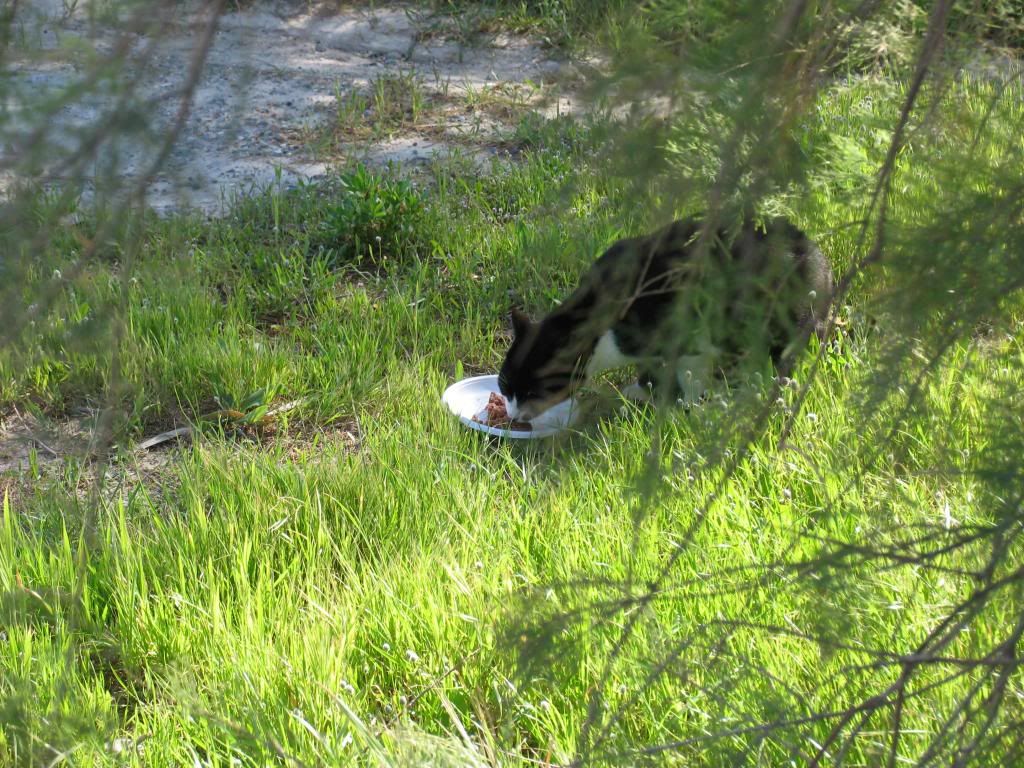 A special private meal for Strike at the top of the park, right before I leave...
Turned into this:
...a public buffet party
Topper is a sweet young male cat who I believe came from across the road, and started spending part of the day up at the top level of the park with Blabby and Greyboy.
Topper looks like Moonpie, only with eyeliner.

Topper, upstage from the sea






Moonpie
Topper, like Moonpie, but with eyeliner
Topper befriended Blabby, which surprised me, since Blabby is an older, altered male. Greyboy only tolerated Topper. (Greyboy and Blabby are BFF's since kittenhood.) I thought, "Isn't this nice for Blabby." It's like the camp song we used to sing, "Make new friends and keep the old; one is silver and the other gold." Greyboy was Blabby's gold friend, and, Topper, his new silver one.

Blabby and Greyboy, golden buddies
Before I knew it, Strike's private breakfast became a regular threesome with Blabby and Greyboy, and then I had to set a fourth place setting when Aggie joined in:
Aggie, far right and top
Then, as I made adjustments, Aggie mysteriously disappeared and Topper took his place.
It was just as I prepared every day for the new foursome, and their tastes, when a young female I call Pegs turned up under a tree with her kittens, Punky and Lulu, and smelled the soft stuff.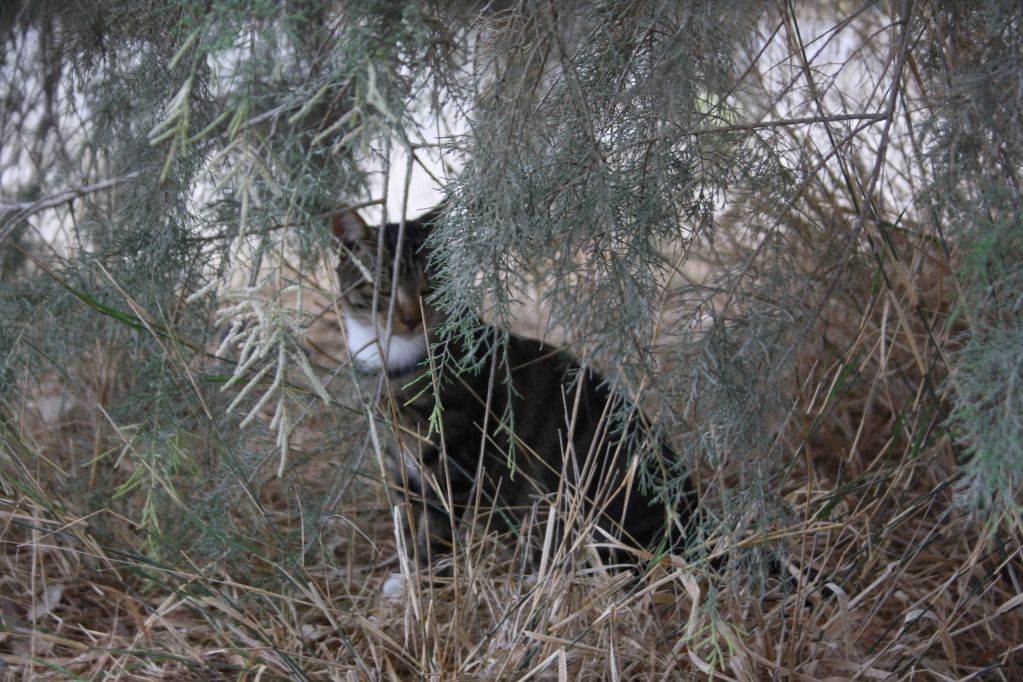 Pegs
Punky and Lulu needed special kitten food
I made the necessary adjustments to that and,...
King, left, Topper, right, and Blabby in background approaching
...then came King.
And then most recently a young female named Sweet Corn has joined the penthouse party.
All this happened as I was still thinking of this as Strike's special meal.
And while I was flailing in the Middle Ages trying to figure how all this changed so fast, Topper moved on and became a Tomcat.
I've noticed it's when I feel comfortable enough to utter a statement like "Topper is so sweet and he loves Blabby, and he is very repectful of Greyboy," that this is exactly when everything changes. And change it did as Topper then became a budding bully.
Cats like to keep us running, and they like to keep us guessing. It's in their DNA; it's in their essence. If change is a part of life, and helps us grow, then cats are the porsches of accelerated change, and force us to grow very fast. They lead me to believe that the universe is indeed speeding up.
I went to the park late Wednesday night and trapped Topper. It was time. He overnighted with us and went to the vet Thursday morning.
Topper came of age while I fiddled and flailed and tried to catch up
Topper before his journey to Nicosia to be altered
Working with cats? It keeps you running.